August 4th, 2017 → 10:21 am @ WinTrader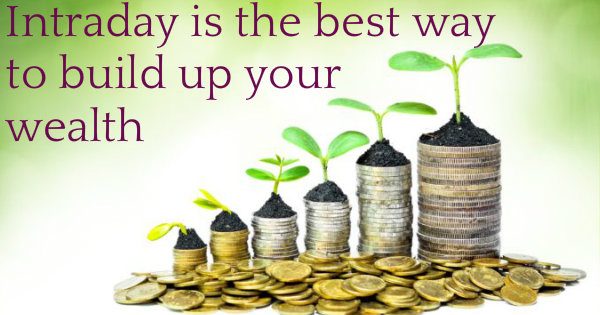 Building wealth is a topic that sparks heated contest, promotes unpredictable "get rich quick" schemes and drives people to follow transactions they might otherwise never consider. Basically to accumulate wealth over time you need to do three things. They are first you need to make it means before you invest or save you need to have a sufficient income left over after your necessities. The second is you need to save it means you have to save your left over income. Another thing is that once you have saved your income that you must invest carefully.

Like any other job, some sacrifices are required for building wealth, such as make more and spend less, for building an alternative income source learn how to invest. Here comes the concept of day trading to make wealth in a simple way. If you are a day trader you know that there will be rise and fall in your income. If you want to make up your wealth, regularity is the key. If you focus on regularity surely you will get a month end income by using a well planned, experienced and a successful trading strategy. Building wealth means you can't spend every scent you make. Put capital that you don't essential at present to work.
Make sure that your day trading income is stable this is the first step to wealth generation. Making a lots of money in one month, but losing a group in the next month, does nothing to promote a sense of security where you're able to save, invest and possibly start another business enterprises so focus on consistency. You must have a well developed trading strategy to win in day trading. But make sure that this plan must not create any barrier between trader and other unexpected opportunities. By doing so, some of the junk or losing opportunities can be eliminated rather than time, and it is important for a trader stay focused on those which seems to offer the best potential.
There is no need of trading in first 30 minutes of the beginning of the market. Avoid trading on a margin account. Then avoid taking tips from unconfirmed sources. If you are following this hopefully you have learned a thing about day trading. And hopefully it has stimulated you to look a little closer at some of the subjects we covered or even try your hand at day trading. The most popular day trading markets are foreign exchange (forex), Stocks and futures. These are some good markets and which provides similar profit potential. Rather than just a deposit day trading requires more money, though. So get ready with a good computer, which is your primary tool, and one or two monitors, a trading platform and real time data without delay. Data cost for different markets are different and for brokers the data for various markets cost money, so pick a market and bond with it. There is no reason to pay for data feeds you won't be using. Also, a consistent income isn't likely during the first six months to a year, so save up for living expenses if attempting to day trade as a primary income stream.
To see the live performance of WinTrader Buy Sell Signal software, and how WinTrader helps a trader to become professional successful trader with consistent profit from trading in Commodities/Currencies/Share markets like MCX, NCDEX, FOREX, CLICK HERE to register your details for real time FREE LIVE DEMO
Tags: 100% accurate buy sell signal software, accurate buy sell signal software with free demo, best buy sell signal software in FOREX, best commodity buy sell signal software in India, best share/stock buy sell signals in India, Most accurate trading system in India, WinTrader V7.0 the best trading systems for Indian Stock markets, xentel, xentelfx