October 11th, 2017 → 11:39 am @ WinTrader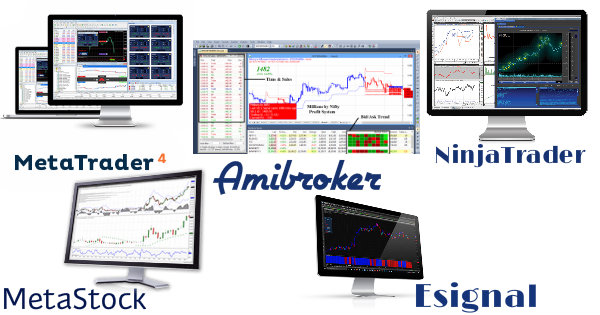 It is essential for every trader to have a trading platform through which they can open, close and mange market positions. Trading platform is necessary for making specified number of trades per month or for maintaining a funded account in exchange. Trading platforms are available either for free or with less brokerage and offered frequently by brokers. Basically it is the software that helps investors or traders to place trades and monitor account.
As time passes trends will change and traders interest towards different trading platform will also change. There exist different trading platforms or softwares that have been favoured by investors or traders. Based on google search and volume across the globe it is identified that Metatrader4 trading software is most popular among traders. Amibroker, Esignal, Metastock, Ninja Trader these are some other popular trading software among traders.
MetaTrader4
MetaTrader4, or MT4 electronic trading platform was developed by MetaQuotes Software and was released in 2005. MetaTrader software provided to clients by foreign exchange brokers since it was licensed to them. It consists of a server component and a client component. Broker controls server component and client software is provided to broker's customers. So that customers can place orders, and can manage their account by using this software by watching live streaming prices and charts. Metatrader is most preferred among trader because of its open source nature. Traders attraction towards Metatrader compared to other trading analysis platform is Metatrader builds a lot of open source competence. MetaTrader coding language is "MetaQuotes Language," or MQL. This scripting language helps traders to create Expert Advisors, custom indicators and scripts which help traders to implement trading strategies and automate trading. Due to "MetaEditor" feature in the platform traders can add their own custom indicators and can follow their own strategies. One can place two types of orders with MetaTrader. Pending and Market orders, when the price reaches a predefined level pending orders will be executed. It is a perfect terminal for traders to trade in financial markets such as futures, CFD and in foreign exchange also.
Some of the good features of MetaTrader that increases its demand across different traders are as follows
• This is the best charting and analysis software among others with its direct live data server connectivity and ease in use.
• Metatrader 4 has major market share with its trading and charting platform facility. More than 90% of FX traders around the world using Metatrader 4 as their trading and charting platform.
• It is user-friendly software and can be used for desktop, tablet, and phone.
• Traders all over the globe use MT4 data. So it is available in so many languages. Each trader can use this in their own regional language.
• This platform has some additional charting abilities which enable traders to simultaneously trade and analyze the technical aspects of the market.
• The platform focuses on personal priorities. One can change colors and styles of chart. Can set templates based on personal preferences so that chart can be read easier also you can remove uninterested functions.
• It is an algo trading platform. This algorithmic trading feature makes it popular among the traders.
• MetaTrader consist of advanced communication tools which help brokers to communicate with their traders and to post messages. Thus long and complicated email threads can be prevented. This makes trader's experience much simpler.
• It is a fast reacting platform due to its relatively low resources.
• It is concealed with end to end encryption with a 129-bit key which gives you high security.
• The platform was engineered to support all currency crosses commodities, futures, and equities trading.
MetaStock
MetaStock was originally released in 1985 by Computer Asset management. It can be used for stock trading for its charting and technical analysis. MetaStock has 30 years of experience among technical analyst from around 1986. This software is DOS based. Due to the lack of active opensource community as Metatrader Metastock is drastically losing its popularity over time.
Amibroker
Like MetaTrader Amibroker is also a technical analysis and charting software in India. Also have been placed next to Metatrader.
Features of Amibroker
• Amibroker have multiple database support but data directly from server is not possible, this will lead to get delayed data. This is not good for a professional trader.
• It is programmed with AFL (Advanced Formula Language).
• It consists of an in-built web browser. So traders can directly view the company profile, and this is less important consider to MetaTrader.
NinjaTrader
Denver headquarter private company LLC established NinjaTrader in 2004. This trading software and market data services maintain high quality performance. This trading platform focused stock, futures and forex markets. Like other trading platforms NinjaTrader also includes automated strategy development, market analytics, advanced charting and backtesting facility.
Features of NinjaTrader
• SuperDOM facility is available in NinjaTrader. With the help of this you can easily place and modify orders in just one click.
• NinjaTrader provide a single advanced chart window to place, modify and cancel orders directly as well as to monitor position size, average entry price.
• NinjaTrader includes Advanced Trade Management (ATM) strategies.
• NinjaTrader charts are customizable, flexible and user-friendly.
• It provides higher consistency increased discipline and better speed.
Esignal
Esignal is also a good charting platform. Its scripting language is JavaScript. Traders can use this scripting language to build up custom indicators. It is owned by US based company.
Features of Esignal
• It provides streaming, real-time market data, news and analytics.
• Easy to use.
• Advanced charting facility and can add custom indicators.
Recent studies shows that MetaTrader searching count is larger compared to other trading platform. It is run far ahead in the race. Metatrader is most popular among Forex traders. Most of the searches have come from Malaysia, Indonesia, Nigeria, Russia, and Singapore. Now it is getting popular in India. MetaStock lost its popularity overtime and most of the searches related to MetaStock is comes from India, Australia and Russia. Amibroker spreads its wings to India, Indonesia, Poland, Hungary but NinjaTrader is widely used in Australia, Canada and United States. Esignal is more favoured by United States and Canadian traders but it fails to capture the overall market. This decreases its demand among traders.
How Wintrader become most popular trading software among the traders all over the world? Read the following.
Tags: 100% accurate buy sell signal software, accurate buy sell signal software in MCX Commoditiies, best buy sell signal software in FOREX, best commodity buy sell signal software, most accurate buy sell signal software, Most accurate trading system in India, WinTrader V7.0 the best trading systems for Indian Stock markets