November 25th, 2016 → 1:21 pm @ reacoms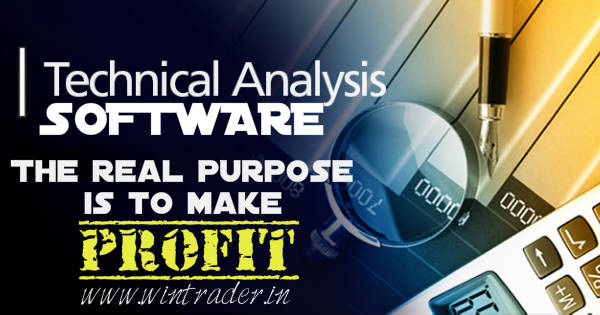 Technical Analysis Software; The Real purpose is to make profit from trading in Stock, Commodity, Currency markets
Trading future market like FOREX, MCX, NSE Futures are habitually described as a game, but don't forget that winning this game is measured only in Rupees. The trader who identifies and correctly numbers the waves of an Elliott wave pattern or correctly measures the existence of past cycles hasn't won the game. He or she hasn't won anything. Chances are that such "success" at putting numbers on past waves won't even produce a profit.
Obviously, there is no right or wrong approach to the business of trading futures in financial markets. Fortunately for us as traders, being right is not the objective. Very little is ever actually known in this business and even less can ever be proven. Therein lays the challenge and the opportunity. We would be the first to admit that what we have stated here-plus most of what follows-consists of personal opinions and conclusions, rather than facts.
WinTrader is one of the perfect and most performing technical analysis software for FOREX, MCX, NSE, COMEX markets to analyze what happened in the past and how to correctly observe what is happening in the present. We think of technical analysis as being primarily concerned with a careful and detailed inspection of the present that will allow us to profit in the future. If you are looking for a method of actually knowing the future, you are not going to find it here or anywhere else.
Please don't be deceived by the appeal of the technical analysis software. Although they are essential tools, they themselves are not the critical elements of success. They can't predict. They can only help you get on the correct side of the market often enough to make a profit now and then. WinTrader is one of the most accurate technical analysis systems carefully assembled with the correct combination of customized indicators that will determine your success. We have to convey specific ideas and knowledge about WinTrader trading systems, technical studies, system testing, and day trading once after the purchase of WinTrader Software. We hope you will find each of them helpful and ultimately make consistent profit from trading financial markets in Commodity, Currency, and Stock Segments.
We have tried to be as accurate as possible, but there will always be an error or two that slips in now and then. We are not just referring to typographical errors but to errors in techniques, procedures, and even logic. Trading futures is not a science and never will be. Many of the things we thought we knew a few years ago could not stand up under rigorous computer testing, so we had to change our opinions and strategies and we will update those in to our upcoming versions of software. Much of what we relate in the software has been thoroughly tested, but much of others has not. We continue to learn, and we reserve the right to change our minds and our opinions in the future. You will find that good traders learn that being wrong now and then is O.K.
WinTrader Technical Analysis software is the outcome of our best effort and research, we still researching and will develop new strategy and will release it with the public once it's been tested and we haven't written anything intended just to sell our software or win reputation competition. In fact, we have probably offended a few friends by challenging their trading methods and beliefs. Differences of opinion are what make the markets. What we have written is what we believe, and it is sincerely intended to help traders improve their methods and results.
To see the live performance of WinTrader Buy Sell Signal software, and how WinTrader helps a trader to become professional successful trader with consistent profit from trading in Commodities/Currencies/Share markets like MCX, NCDEX, FOREX, CLICK HERE to register your details for real time FREE LIVE DEMO
You can find some interesting links below, that will helpful in your trading
See the performance yourself, CLICK HERE to contact us and FIX UP a FREE REAL TIME DEMO of WinTrader BUY Sell signal software in FOREX, MCX, NSE, COMEX, NCDEX, MCX SX markets.
OR
Contact our representative on below mentioned numbers;
+91 9846 699177 (English)




+91 9061 973737 (Hindi)




+91 90613 08080 (Tamil)




+91 92492 73612 (Malayalam)



Tags: 100% accurate buy sell signal software, automatic buy sell signal generating software, best share/stock buy sell signals in India, India's best buy sell signal software, Most accurate trading system in India, WinTrader V7.0 the best trading systems for Indian Stock markets