September 22nd, 2016 → 6:45 pm @ reacoms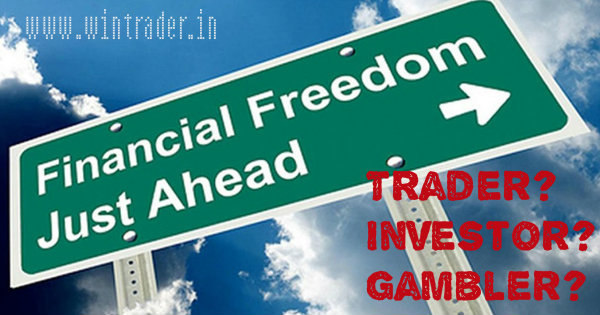 Are you a TRADER/ INVESTOR/ GAMBLER? An Intelligent comparison
A new comer to the market faces three paths that lead into a forest full of treasures and dangers. The first path, for investors, goes through the sunniest areas. Most of those who take it come out alive, if not much richer. Another path, for traders, leads into the heart of the forest. Many travelers disappear, but those who come out look rich. The third is a shortcut that takes gamblers into the marsh. How can you tell which path is which? You must choose your way carefully because if you don't, you'll end up on the gamblers' path, especially since it crosses both investors' and traders' trails.
AN INTELLIGENT TRADER
Traders make money by betting on short-term price swings. The idea is to buy when our reading of the market tells us prices are rising and sell when the uptrend runs out of steam. Alternatively, we can bet on a decline and sell short when our analysis points to a downtrend, covering when the downtrend starts bottoming out. The concept is simple, but implementing it is difficult. It is hard to become a good analyst, but harder to become a good trader without any technical analysis software like WinTrader. Traders who starting their career in trading often assume they can make money easily because they're smart. You can get a fast computer and even buy tips from tips providers, but trading without any home work is like trying to sit on a three legged chair with two legs missing, you will not get balance ultimately you will fall. Like in trading you have to do proper home work and need a professional approach, use of a better technical analysis software that can provide more accurate buy sell signals will ease your home work and will help a trader to make consistent profit from trading.
The two other factors most traders do not care are psychology and money management. Balancing your mind is just as important as analyzing markets by a technical analysis tool. Your personality influences your perceptions, making it a key aspect of your success or failure. Managing money in your trading account is essential for surviving the inevitable draw downs and prospering in the long run. Psychology, market analysis, and money management you have to master all three to become a success. There are two main approaches to profiting from crowd behavior. WinTrader Technical analysis system designed by professional traders having more than 15 years experience in trading by considering different trading style like Momentum Trading and Counter Trend Trading.
The first is momentum trading buy when a ripple starts running through the crowd, sending the market higher, and sell when that ripple starts losing speed. It is a challenge to identify a new trend while it's still young. As the trend speeds up and the crowd becomes exuberant, amateurs fall in love with their positions. Professionals remain calm and monitor the trend's speed. As soon as they find that the crowd is returning to its normal sleepiness, they take profits without waiting for a reversal.
The other method is the counter trend trading strategy. It involves betting against the deviations and for a return to normalcy. Counter trend traders sell short when an upside breakout starts running out of speed and cover when a downtrend starts petering out. Beginners love to trade against trends (let's buy, this market can't go any lower), but most get impaled on a price spike that fails to reverse. A man who likes peeing against the wind has no right to complain about his cleaning bills. Professionals can trade against trends only because they are ready to run at the first sign of trouble. Before you bet on a reversal, be sure your exit strategy and money management are fine tuned. Momentum traders and counter trend traders capitalize on two opposite aspects of crowd behavior. Before you put on a trade, be sure to know whether you're investing, momentum trading, or counter trend trading. Once you've entered a trade, manage it as planned! Don't change your tactics in the midst of a trade because then you'll contribute to the winners' welfare fund. Amateurs keep thinking what trades to get into, while professionals spend just as much time figuring out their exits. They also focus on money management, calculating what size positions they can afford under current market conditions, whether to pyramid, when to take partial profits, and so on. They also spend a great deal of time keeping good records of their trades. A trader do not worry about these trading rules and principles once he/she has WinTrader Technical Analysis Software, WinTrader trading systems designed by adapting all these techniques from different trading style and put them together in a correct proportion, this will makes WinTrader Buy Sell Signal Software an award winning trading system which can capable of providing more than 90% accurate buy sell signals in Commodity/Currency/Stock markets like FOREX, MCX, NSE, NCDEX, MCX SX, COMEX, etc.
AN INTELLIGENT INVESTOR
Investors profit by recognizing new trends in the economy and buying into them before the majority wakes up to opportunities. A knowledgeable investor who has patience can earn decent profit from trading by holding his position without being terribly active. With the use of higher time frames in Win Trader, a trader can take long term positions for investing. Win Trader Trading System supports all style of trading like day trading, short term trading and long term trading (positional trading).
AN INTELLIGENT GAMBLER?
The worst part trader loss money quickly and in huge amount is with gambling attitude. Most people gamble at some point in their lives. For most it provides entertainment, for some it becomes an addiction, while a few become pros and make a living at it. Gambling provides a living for a very small minority and entertainment for the masses, but a casual gambler reaching for a quick buck has the same chance of success as an ice cube on a hot stove. When you gamble for entertainment, follow a set of money management rules. The first rule is to limit how much you'll risk in any given session. On a rare occasion when a friend pulls me into a casino, I put what I am willing to lose that night into my right pocket, and stuff my winnings, if any, into the left one. I stop playing as soon as my right pocket is empty, without ever reaching into the left. Once in a while I find more money in the left pocket than I had in my right, but I certainly do not count on it. A friend who is a successful businessman enjoys the glitter of Las Vegas. Several times a year he takes 5000 bucks in cash and flies there for a weekend. When his bankroll runs out, he goes for a swim in the pool, enjoys a good dinner, and flies back home. He can afford to spend 5000 bucks on entertainment and never blows more than his initial stake. Lounging at a pool after his cash is gone, he differs from legions of compulsive gamblers who keep charging more chips on their credit cards, waiting for their "luck" to turn. A gambler with no money management is guaranteed to bust out.
You can find some interesting links below, that will helpful in your trading
See the performance yourself, CLICK HERE to contact us and FIX UP a FREE REAL TIME DEMO of WinTrader BUY Sell signal software in FOREX, MCX, NSE, COMEX, NCDEX, MCX SX markets.
OR
Contact our representative on below mentioned numbers;
a. +91 9846 699177 (English)
b. +91 9061 973737 (Hindi)
c. +91 90613 08080 (Tamil)
d. +91 92492 73612 (Malayalam)
Tags: 100% accurate buy sell signal software, accurate buy sell signal software in MCX Commoditiies, automatic buy sell signal generating software, best buy sell signal software in India with free demo, best share/stock buy sell signals in India, India's best buy sell signal software, NSE Buy Sell Signal Software