September 28th, 2016 → 3:22 pm @ reacoms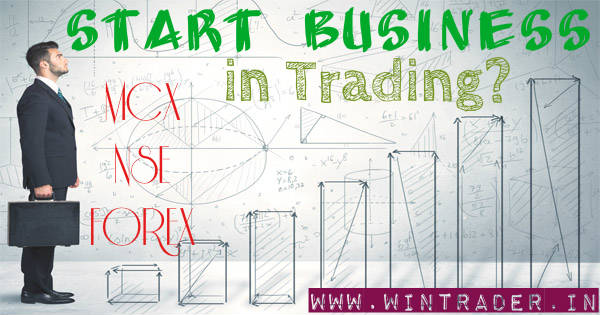 Setting Up Your Business in Trading Financial market like MCX, NSE, FOREX
"A man must believe in himself and his judgment if he expects to make a living at this game." —Jesse Livermore
Day trading is a business like any other. You'll want to create a plan and set goals so that you will have a clear idea about the direction what to do. First, you need to conclude how much time and money you can realistically dedicate in to your trading business. Then, you can choose your equipment or update existing equipment. Finally, you have to decide which kind of trading account best suits your needs and goals, and establish that account with a broker. Since brokers are offering different type of trading account like with onetime payment and trade unlimited per month without any brokerage or per trade brokerage, so you have to first decide which brokerage account suite for your need.
When you set out to drive somewhere you have never been before, you check a map or navigation and ask for directions from someone who is been there. Otherwise, chances are you will get lost and have a much longer trip than you expected . Your journey into the financial markets like Commodity /Share /Currency segments as a trader is much the same. Unless you have traveled this road before, you will succeed far more quickly and easily if you have a map/navigation or plan. The best plan is a written one. It is a fact that people who write down their plans on paper achieve their goals in a high percentage of the time. People who simply hold their plans in mind as unclear generalities achieve a lot less. If you would like to meet your goals more quickly and efficiently in trading, create your trading business plan that we are going to discuss.
Your Time Commitment in Trading
First, do you intend to be a full time or part time trader? If you intend to undertake the market full time, you may have a large portfolio. Possibly you have been trading part time and want to become fully involved later. Or, maybe you want to study hard and fast. Select a perfect technical analysis software and you realize that by watching market action as much as possible with the technical analysis software for perfect buy sell possibilities, you will absorb the most knowledge at the fastest possible rate. In day trading we are using less time frames in the buy sell signal generating software (technical analysis system) like 1m, 5m, 15m and 30m and in swing and position trading (holding positions from two to five days, or four to eight weeks or duration of a stock's trend, respectively), we select longer time frames (as different to day trading) like 1hrm, 4hr, 1week, 1 month, etc.
When we look in to traders behavior, we can observe the below personalities or categories
1. Closet traders: These are people such as dentists, physicians, attorneys, office managers, and assistants who keep an eye on their stock positions between drilling teeth, removing appendixes, taking phone calls, and attending meetings.
2. First and last hour traders: They pinpoint the stocks/commodities that they want to enter the night before, and then depending on market conditions at the open the next morning, they make their move. Before the market closes, they check out their positions again for exit or entry and money management decisions.
3. Laid back traders: They enter one or two positions a week, max. Once in, they set automatic stop-loss orders with their brokers. They keep an ear to overall market action, and every few days peruse their portfolio for possible profit-taking opportunities.
Do you fit in any of the previous examples? All of the options are valid and have high potential for success. Please remember that in the beginning, though, whether you commit to being a full time or part time trader, besides the time commitment for actual trading, you will need to allocate extra time for study and research with your selected technical analysis system. You have to do paper trade as much as possible with your trading terminal and buy sell signal system. In this way you will have a great idea about the performance of technical analysis software with your trading platforms. While we're on the subject, keep in mind that you will never know everything there is to know about this trading business. If you are still trading years from now, you will still be studying years from now. Trading is a journey, not a destination.
Your Most Important Commitment: Money
You have to finalize the capital that you are willing to invest for your trading business. The amount you invest doesn't matter! But you must start with enough balance to get you through the learning curve. Unfortunately, an account funded with a few thousand bucks will not make the cut. And also you find that most brokerage firms ask for minimum amounts for opening accounts with free brokerage plan like pack. The most important thing you have to remember is the money you've targeted to invest for your trading account is now labeled "high risk." This capital has to be money you can afford to lose. This point is not negotiable for many reasons. When you enter the stock market as a newcomer and make your initial trades, you're going to make mistakes. That means there is great chance you are going to lose money. If you follow the WinTrader Technical analysis software to identify for perfect buy sell entry points you can minimize your drawdown (paper loss). Even so, you will probably incur losses at initial stage due to your ignorance and inexperience. That is why we stress so firmly that when you open your trading account, you do not fund it with money intended for your children's college education or the down payment on a new house. Do not invest money in your trading account with money that, if lost, will alter your lifestyle in any way!
If you trade with money that isn't disposable, it will be like scared money. Trading with scared money colors your perception of the market. Your common sense flees under these conditions. Greed and fear mushroom out of control, you will end up with losses. At the least, your fear of losing money will stop you from entering proper buy and sell setups that have a great chance of profitability. Finally, if you've thought of borrowing the money to fund your trading account, please don't. That's considered instant scared money. Instead, sock away a percentage of your income over time until you have enough to start with. The flip side of all of these cautionary notes: If you have a clear mind because you're trading with money you have set aside for just this purpose, you will approach the market with a calm and confident mindset that is beneficial to harvesting profits from trading in MCX, NSE, FOREX markets.
Choosing and Updating Equipment for Office:
One of the great advantages of day trading business is that setting it up requires far fewer expenditures than those normally associated with a traditional start up business. You need to have a comfort space for trading, you can select your home or office as your trading room, no matter where you set up to trade, is that your environment supports your ability to focus in trading. Make sure you have a quiet, private place from which you can study, research, and place your trades. For starters, set up a television. Tune it to CNBC or another financial network that feeds live telecast about the financial markets which you entered in to trade. Next, you'll need a high-quality personal computer with a good monitor, preferably dual monitor setup with bigger monitor screen, the better. Dual monitor setup is help ful to load trading platform in one screen and WinTrader Buy Sell Signal and Technical Analysis software on another screen. This way you can simultaneously monitor both software at a time, and whenever WinTrader Buy Sell signal system alerts a new buy or sell entry, you can immediately place the trade in your trading platform without minimizing screen. Start with at least a nineteen-inch model, and upgrade to a larger screen as soon as you can. The more generous the screen, the more grateful your eyes will be. Analyzing WinTrader software on a laptop-sized screen for any length of time stresses your vision. You may also want to add a high-quality surge protector to help avoid damage due to power up and down. The next consideration is your Internet connection. The minimum connection you have to use is 128kbps broad band internet connection. If you intend to trade more than occasionally, you have to think about having a backup Internet connection, just in case your primary one goes down
And finally the most important thing is selecting a best technical analysis software which can provide most accurate buy sell signals in your selected segments, whether it is Commodities (MCX, COMEX, NCDEX), Stocks (NSE Cash, Futures, Options), Currencies (FOREX, MCX SX). Here the part of WinTrader Buy sell signal and technical analysis software comes in to role. WinTrader Technical analysis software is highly accurate trading systems which can generate most accurate buy sell signals in FOREX, MCX (India), NSE (India), NCDEX (India), MCX SX (India), COMEX (USA) markets using successfully by more than 8000 traders (as on September 2016) around the world successfully for more than Eight Years. Currently WinTrader buy sell signal software supports segments in Commodities, Currencies and Stocks are MCX, NCDEX, FOREX, MCX SX, NSE (Cash/ Futures/ Options). This means with one software you can get highly accurate buy sell entry points in all the above said markets and make consistent profit from trading. WinTrader buy sell signal software works with real time quotes, which means stock/currency/commodity prices are current when displayed. For precise buy or sell entry points, real time quotes are a must. Some software's still give "delayed" quotes by using third party plug-ins and offer less data charge, if you not get real time price in software then you will miss out prompt buy or sell entries in time, the delayed entry means you will end up with small profit or even loss. But we guarantee WinTrader works with real time quotes.
And we hope this blog give you a rough idea about how to start a business in day trading.
To see the live performance of WinTrader Buy Sell Signal software, and how WinTrader helps a trader to become professional successful trader with consistent profit from trading in Commodities/Currencies/Share markets like MCX, NCDEX, FOREX, CLICK HERE to register your details for real time FREE LIVE DEMO
You can find some interesting links below, that will helpful in your trading
See the performance yourself, CLICK HERE to contact us and FIX UP a FREE REAL TIME DEMO of WinTrader BUY Sell signal software in FOREX, MCX, NSE, COMEX, NCDEX, MCX SX markets.
OR
Contact our representative on below mentioned numbers;
+91 9846 699177 (English)
+91 9061 973737 (Hindi)
+91 90613 08080 (Tamil)
+91 92492 73612 (Malayalam)
Tags: accurate buy sell signal software in MCX Commoditiies, automatic buy sell signal generating software, best commodity buy sell signal software, best commodity buy sell signal software in India, most accurate buy sell signal software, Most accurate trading system in India, WinTrader V7.0 the best trading systems for Indian Stock markets