May 21st, 2018 → 6:17 pm @ reacoms
WinTrader V8.0 The New Buy Sell Signal Software for MCX, NSE & FOREX
On 21st May 2015, WinTrader Buy Sell Signal Software launched new version to the public, and all our existing clients will be updated the new version free of cost as per our FREE LIFETIME UPDATE policy, all the existing client requested to contact your concerned support team in the company to get update the new version.
WinTrader V8.0 is our promising version and it comes with Scanner features. in the scanner, the trader can load maximum 100 scrips at a time, and the software will scan each tick and if any trend detected in particular scrips software will alert you by pop up message with sound. This features mainly helps the traders in NSE Stocks & Futures, they can load their favorite performing stocks and futures from their portfolio list to the scanner and the WinTrader Scanner 1.1 will scan each stocks and features for particular trend, if any trend detected you will get alert, in that time you can directly open particular chart by click Chart button on scanner and it will automatically load our new version of WinTrader V8.0. Once WinTrader V8.0 confirms the signal you can directly do the trade with highest success ratio.
WinTrader V8.0 is easy to use and understand trading system version, there is no need for any complex calculations or decisions to pick most accurate BUY and SELL signals. All the calculations and decisions will be made with the inbuilt hardcoded algorithmic coding and will display the result on the screen accompanied by pop up message with alert sound. WinTrader V8.0 displays targets, stop loss (Trailing) and current signal profit/loss in real time on screen. This feature will help the trader a tension free trading and this will helps to enter and exit from trade with profit.
Re-Entry BUY SELL Signals with Target
This is one of the key features in New Version, in a situation mainly in day trading when the trend continues and our primary signals all targets hit, then in normal case trader will not get any fresh signals. In WinTrader V8.0 we have added re-entry suggestion to overcome this situation when it's enabled you will get Re-Entry BUY SELL signals with the target when markets go further with the current trend, this will help the trader to maximize the earning potential with WinTrader V8.0.
For the instructional video of our new version, you can watch it on our youtube channel. CLICK HERE to watch our demo videos.
Below attaching some screenshot of WinTrader V8.0 and Scanner for your reference, and if you need further details and FREE real-time demo contact us.
CLICK HERE to submit your request for FREE DEMO of WinTrader Buy Sell Signal Software.
The screenshot below shows WinTrader V8.0 is one of the best buy sell signal software
WinTrader V8.0 performance screen on MCX Copper 5M time Frame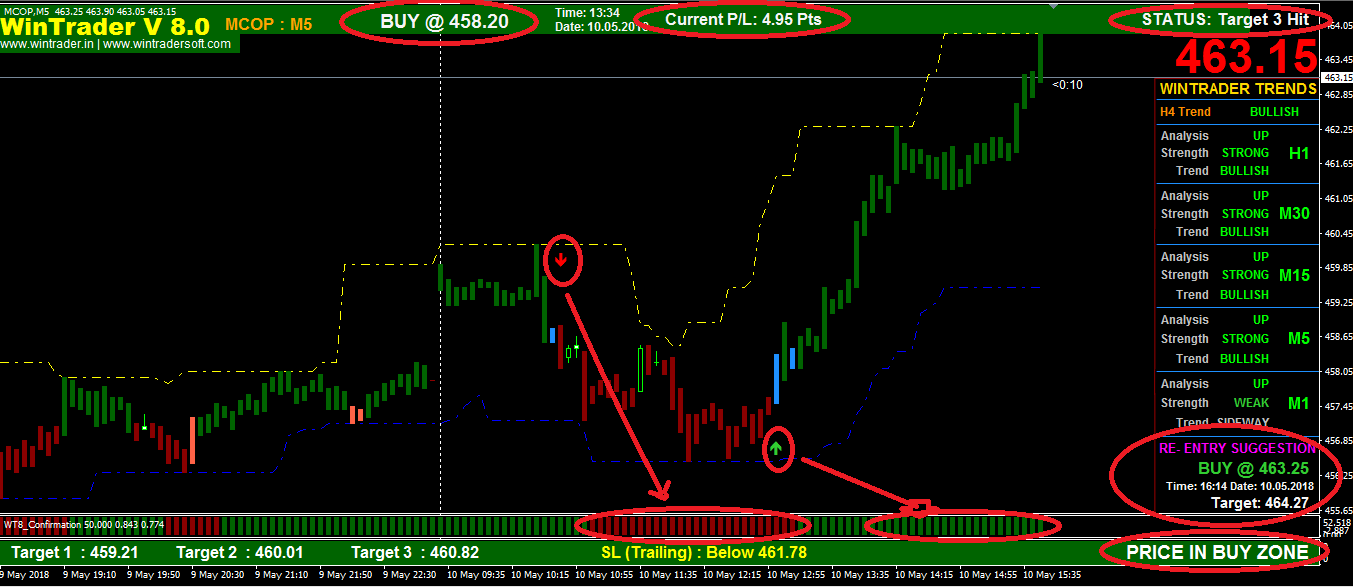 WinTrader V8.0 Screen in NSE – NIFTY 5M time Frame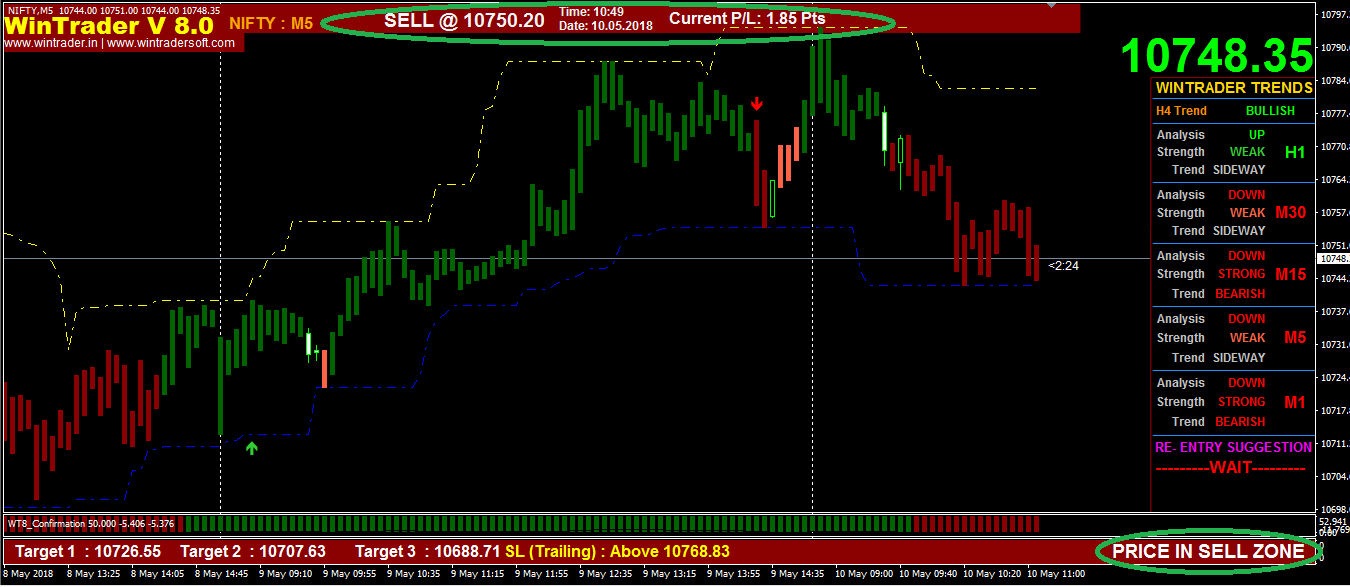 WinTrader 8.0 Performance in MCX -Crude Oil – 5M Time Frame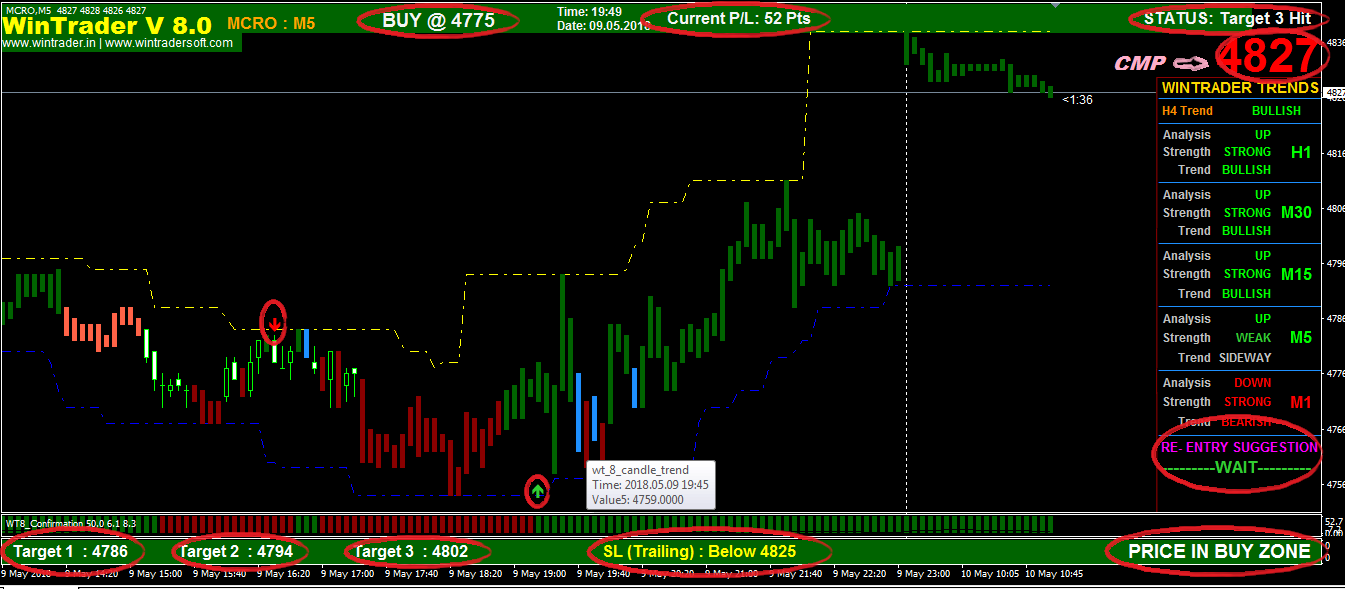 WinTrader 8.0 Scanner in Live Market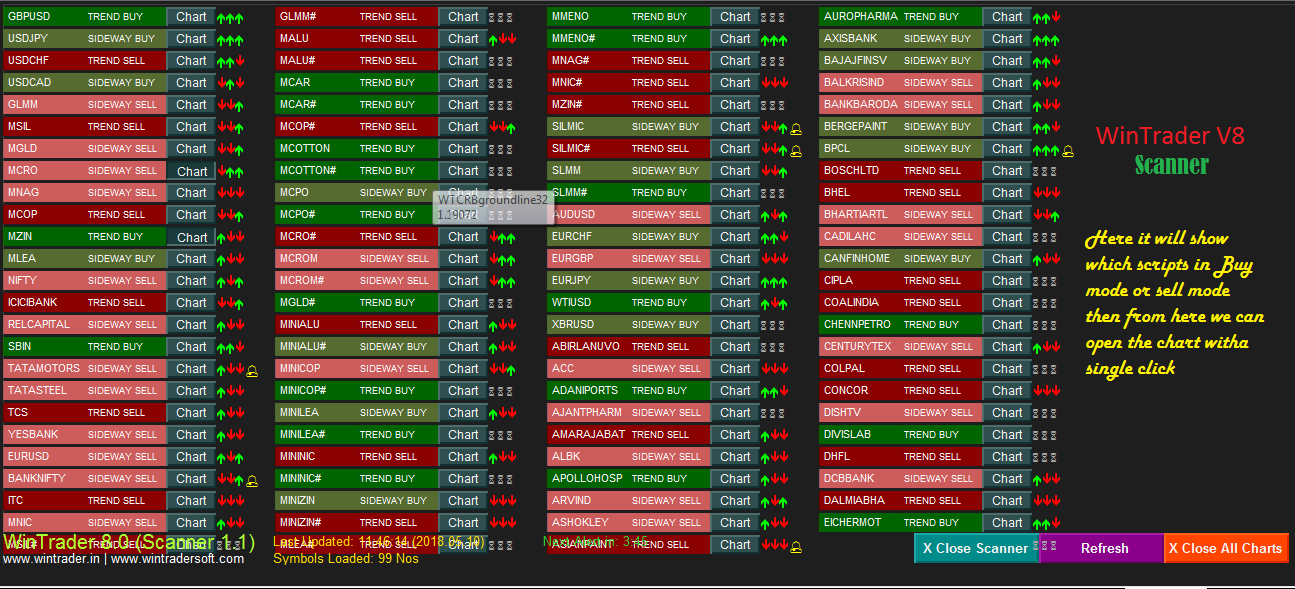 Tags: best buy sell signal software, best buy sell signal software in India with free demo, buy sell signal software in India, wintrader scanner in mt4, wintrader v8.0